Yuan Ming Yuan (Garden of Perfect Splendour)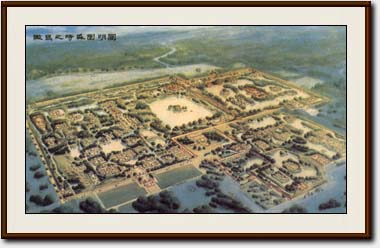 Yuan Ming Yuan, before its destruction, was referred to as the "Garden of Gardens," since it was a combination of gardens of different styles, Chinese and Western.
Yuan Ming Yuan consisted of three gardens. Yuan Ming Yuan (Garden of Perfect Splendour), Chang Chun Yuan (Garden of Eternal Spring) and Qi Chun Yuan (Garden of Gorgeous Spring). They covered 350 hectares.
The southern part of the huge garden was occupied by palatial buildings, where emperors handled state affairs. Over the rest of the garden were scattered 40 scenic areas, which each consisted of smaller landscapes, 50 of them being imitation of garden, for example, were copies of the ten scenic spots of Hangzhou's West Lake with identical borrowed names.
The best-known Western structures were a fountain, a maze and European palaces, all of a Renaissance style. In a small lake was built a model of Venice.
The emperor's apartments were adorned with art treasures of an astonishing richness. The garden was beautified by millions of exotic flowers and trees.
Yuan Ming Yuan was located to the east of Summer Palace. Construction started in 1709 and was completed after more than 150 years. With an area of over 340 hectares and a building space of more than 160,000 square metres, the three-in-one garden was considered a masterpiece of Chinese gardening.
The Ten-Thousand-Flower Labyrinth, one of the scenes in the Garden of Perfect Splendour, has been reconstructed. It is a maze of winding paths between low walls in the eastern part of the garden.
Unfortunately, the garden was looted and torched by the Anglo-French allied force in 1860 and by the allied force of eight powers in 1900. A once wondrous garden was reduced to ruins. Visitors today can see a few blocks of stone and broken marble that once belonged to the European palaces constructed under Emperor Qianlong between 1740 and 1747.