Pipa instrument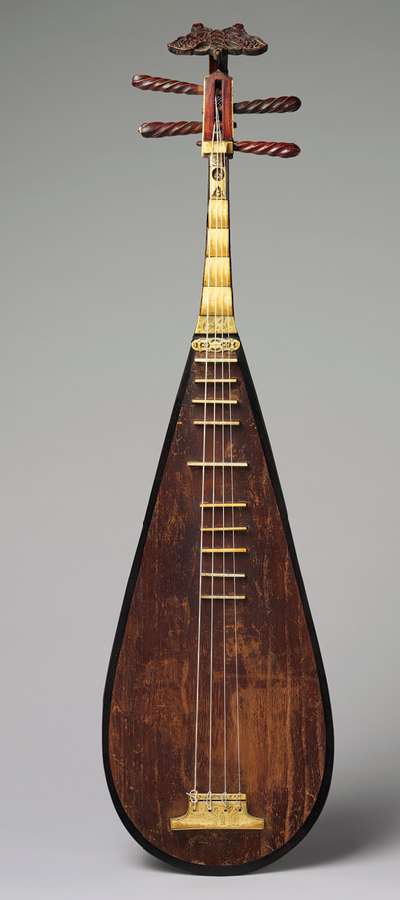 Pear-shaped lute, introduced from Central Asia into China during the Han and Sui dynasties (1st–7th century), now something of the national instrument of China.
The name describes the original playing motion of the plectrum held in the performer's right hand: p'i, "to play forward" (toward the left), and p'a, "to play backward" (toward the right). Until the mid-tenth century, the pipa was held horizontally (guitar style), and its twisted silk strings were plucked with a large triangular plectrum. Toward the end of the Tang dynasty, musicians began using their fingernails to execute the exuberant and programmatic repertory that was gaining popularity and that became the national style. To facilitate the use of the fingers, the instrument began to be held in a more upright position. In addition to its use in the opera and in storytelling ensembles, the pipa has a solo repertory of highly programmatic, virtuosic music.
The pipa's foreign roots are a fundamental and obvious part of its lore. Various instruments given the name pipa were introduced to China over several centuries. The imports most resembling the modern pipa came following the fall of the Han (206 BCE – 220 CE). Murals on cave temples and tombs from Dunhuang and elsewhere in western China and Xinjiang depict musicians playing various varieties of pear-shaped lutes.
The pipa is inescapably linked to the Western Regions, the Silk Road, the introduction of Buddhism from India and Central Asia, and more generally with the exoticism and eclecticism of the Tang period, when the fad for music from the Western Regions (especially Kucha, in the Tarim Basin) reached a height. Most Tang poets rhapsodized at one point or another about the pipa, its music and musicians.
The famous pipa melodies themselves were often foreign imports (such as Nishang, mentioned in Bai Juyi's 'Pipa Song') or thought to be such, and the poems were populated with courtesans and dancing boys, exotic beauties serving up warmed wine and flattery to their scholar clients.