Canton porcelain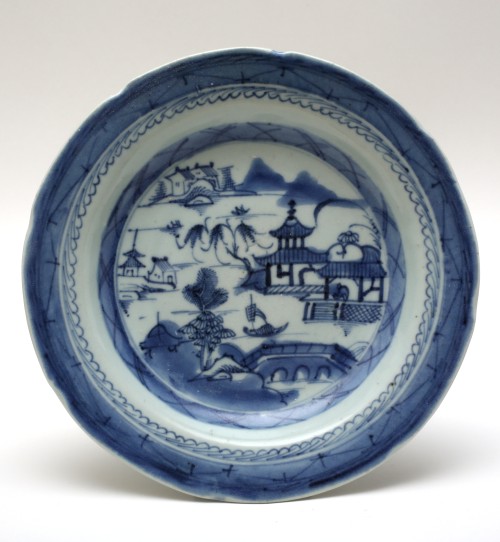 No porcelain was ever fired in Canton however enameling studios in and near Canton (Guangzhou) became very common during the first decades of the 18th century, to become the predominant supplier of enamel decorations around the end of the 1730s, due to the demand of the western buyers. The various East India Companies ideally wanted their porcelain orders to be filled before their ships would begin to load the tea, that was the main product.
To this end any porcelain that was available off the shelves or could be decorated to order fast enough, would go in first.
Any porcelain of special shape and special underglaze blue and white decorations, still needed to be ordered to be made at the kilns in Jingdezhen and would be delivered not earlier than the next season.
In America, Canton porcelain refers to underglaze blue and white porcelain made for export during the mid 19th century. This porcelain was bought and shipped from Canton (Guangzhou) generally to serve as Ballast under the tea chests. These wares usually depict a landscape with Chinese buildings and a bridge in the center and have a decorated rim.
A similar but better more elaborately decorated underglaze blue and white ware is known as Nanking
In Europe "Canton" porcelain is referring to enameled porcelain made in the city of Jingdezhen but decorated in Canton in a number of standard pattern, from early to mid 19th century and up until the first decades of the 20th century.
In America these enamelled wares are more appreciated an in a similar manner to the European famille rose etc. These standard patterns are given different family names such as Rose Medallion, Rose Mandarin etc. The decoration typically covers most of the available porcelain surface with alternate panels of figures and birds, flowers, and insects, predominately in pink and green. The best examples can be stunning masterpieces of miniature decorations.
See also: Mandarin porcelain, Chinese export porcelain and Canton enamels.