The Eight Horses of Wang Mu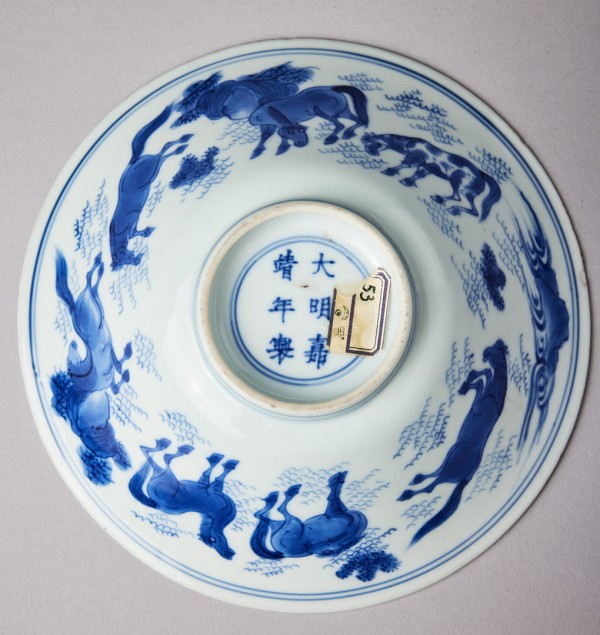 The eight horses of King Mu of the Zhou Dynasty was a popular theme for porcelain decorations from the Transitional into the Yongzheng period (1723-35). The story originates from a historical romance, the Mu tianzhi zhuan (An Account of Emperor Mu), which describes the journeys of the fifth emperor of the Zhou dynasty (1023-983 BC) during which he met Xi Wangmu - the Queen Mother of the West - at Yaozhi (the Jade Pond).
The story is about King (Wang) Mu, who dreamed of being an immortal God. He was determined to visit the heavenly paradise and taste the peaches of immortality. A brave charioteer named Zaofu used his chariot to carry the king to his destination.
During these travels the emperor's chariot was pulled by eight horses named after the color of their hair. Another account, the forth century book, the Shiyiji (Researches into Lost Records) has it that the horses' names reflected their unusual talents; Number 1 gallops without touching the ground; Number 2 runs faster than birds; Number 3 goes especially fast at night; Number 4 goes as fast as the shadow of the sun; Number 5 is especially well-groomed with a splendid mane; Number 6 runs so fast that one can see a row of ten images of him; Number 7 rides on a cloud; Number 8 has wings."
The The Eight Horses of Wang Mu became a popular subject among later poets and artists and a symbol for the vehicle or journeys of any emperor.