Wanshou wujiang, Imperial birthday wish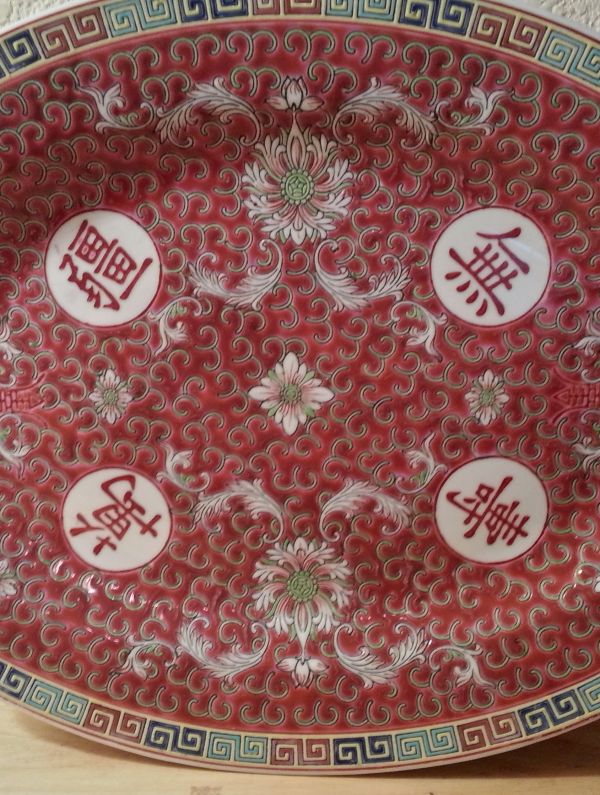 Imperial birthday wish. Until the end of the Imperial China the four character phrase Wan Shou Wu Jiang was reserved for the birthdays of the emperors and empresses of China. The phrase translates as 'may you have ten thousand longevities without boundary'. Many similar interpretations seem to exist such as 'Ten thousand years of boundless longevity'.
The phrase used in porcelain decorations appears to date back to the 80th birthday of the Emperor Qianlong 1736-95.
During the Tongzhi period (1862-74) at least two series of porcelains with this phraze seems to have been ordered for the wedding of the Tongzhi emperor in 1872. (Longsdorf,R.W., Orientations, October 1996). Either that, or that the porcelain in reality was ordered for a birthday. In 1874 for example, the Empress Dowager Cixi would have been 40.
The decoration appears to enjoy a revival around the Guangxu period (1875-1908) and becomes popular at the time of the Early Republic. A popularity that remains until today.
In a shortened version the same phrase (wanshou - ten thousand longevities) can be referred to in decorations by combining the swastika (wan) with the shou character.