Boy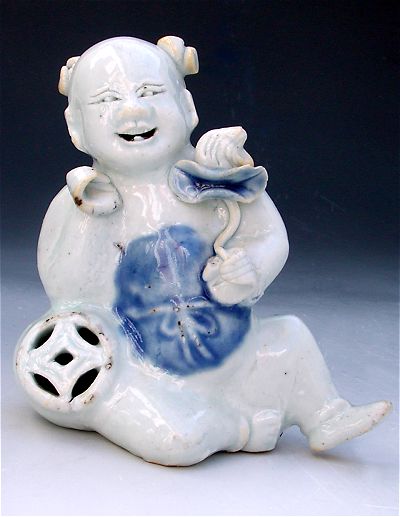 Most of the time in Chinese art 'children' means 'sons'. Before 1949 only a male heir could inherit the parental estate and perform the ancestral sacrifices for father and forefathers. The more sons a man had, the better. Some patriarchal prodigies in Chinese history are held up as examples such as Wen-wang, the founder of the Zhou dynasty (c. 1050 BC) who, we are told, had a hundred sons. In Chinese art, children playing with lotus leafs, could still today be found together with references to Wen-wang.
For two thousand years what parents aimed for with their life was to have sons, and for them to pass the provincial examinations and the final examination in the capital, which would led to high office, success, respect and often to wealth.
A picture of two boys, one holding a box (he = small box, or concord) and one holding a lotus (he lotus, or concord) is a representation of the Heavenly Twins of Conjugal Felicity, the he he er hsien.
In Taoist literature, the child epitomizes the ideal innocence of the holy sage, absorbing all that he sees.
A boy (child) with a lotus leaf could thus with all its implications be said to express the wish, "may the heavenly powers send you a son".
See also: Hundred children motif