Seven Sages of the Bamboo Grove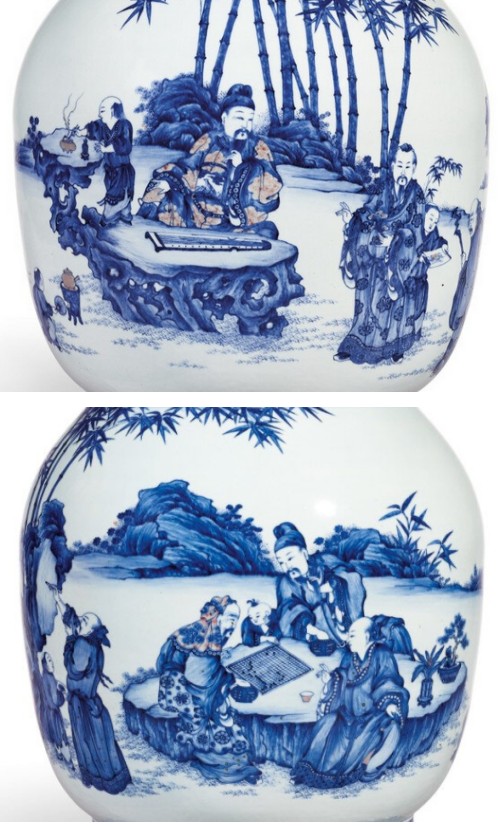 The portrayal of the Seven Sages of the Bamboo Grove, a group of scholars of the Wei dynasty (220-265) who had renounced their official status and career in protest against corruption, is a popular subject in the 18th century and one that reflects the way in which contemporaneous ideology was heavily steeped in Daoist beliefs and thoughts.
After the Han Dynasty (207-A.D. 220) collapsed, a civilized, poetic drunkenness was embraced. The group of poets named the 'Seven Sages of the Bamboo Grove' were the epitome of a romanticized image of the tipsy Chinese scholar who painted and created poetry by moonlight.
This literati was interested in transformation, expression and virtuosity. In their desire to escape the disastrous world they saw around them, they sought self cultivation. Their world view, based on a wish to live morally and truthfully, caused them to create an esthetic of tension between the unbalanced and the balanced. Everything then had a place but actually it was never quite fitting. The child-like qualities of intuitive knowledge and great capacity were most valued.
Together they tried to create an environment and situations for wise and free men, enjoying life, and contemplating the many wonders of Daoism. As junzi, or sublime men, they preferred a life of solitude to the bustle of court life which was considered the life of dust and dirt. Ruan Ji was famous for writing a guqin melody famously called "Drunken Ecstasy". In his poetry, we can find angry criticism and satire of Confucian scholars and rulers.
References to the Seven Sages of the Bamboo Grove are abundant in Chinese and Japanese art and literature. The earliest extant visual representations of the group date to the fifth century CE. Over time the theme gained popularity in Chinese arts, particularly from the late Ming (1368-1644) through the Qing dynasty (1644-1911). In Japan, the motif of the Seven Sages of the Bamboo Grove was known as early as the ninth century and widely represented in Japanese art from the sixteenth century to the Edo period (1615-1868).