Dragonware (Jp.)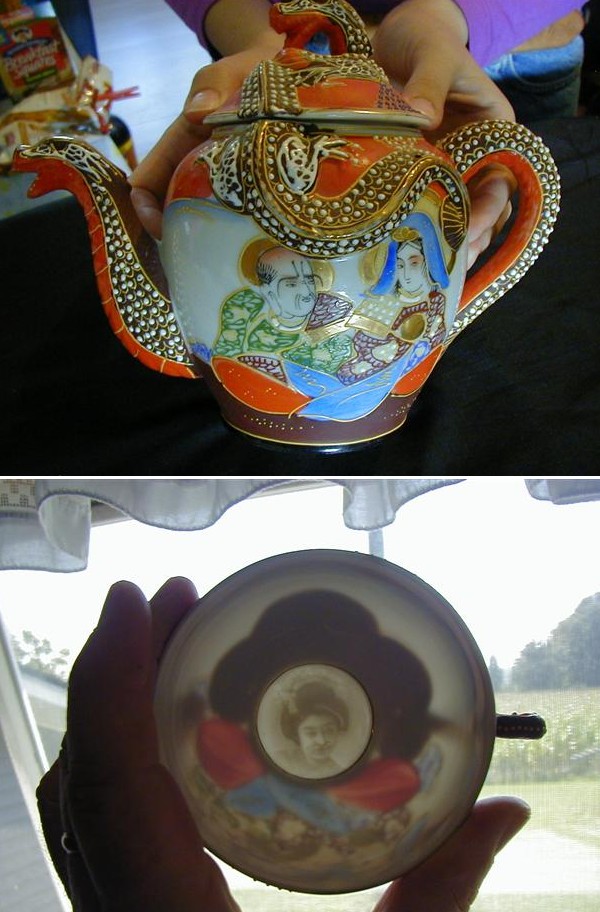 Dragonware is Japanese export porcelain decorated with dragons in a technique called moriage meaning "raised enamels". The effect has by some authors been likened by cake frosting. Dragonware dates from around the 1880s and later. This style of porcelain is also known as "kyo-yaki," or "Kyoto Satsuma" which refers to porcelain that is made in the Kyoto region of Japan.
The designs on dragonware often feature detailed depictions of dragons in various poses and colors, surrounded by clouds, flames, and other traditional Japanese motifs.
To create the raised enamels a slip is used, which is a thick mixture of clay and water. Also, moriage pottery is not glazed so it has a matte finish. On the earlier pieces as in before the 1920s some enamels and gilding occurs along the raised slip decoration.
In general the decoration becomes less ornate over time. On the earlier pieces the dragons would wrap around the entire piece and the eyes would be made of glass beads. As time passed by, the glass eyes disappeared. The size of the dragon was diminished. Originally, the dragon decoration was wrapped around the whole object. A practice we can say ended by the time of WWII.
In decorations made after the WWII the dragons are generally reduced in size and does not wrap around the entire piece. On some Japanese export porcelain there are marks that can help with dating. From 1891 until 1921 pieces was required to be marked with the word Nippon, meaning Japan (Ni hon) after which it was replaced by Made in Japan.
All pieces are mot marked regardless of period. During a short period between 1946-47 porcelain exported from Japan to the US were marked Made in Occupied Japan. If design is high end but only on one side of the object, then it is probably after WWII.
Some Dragonware are combined with a raised face in the porcelain base which could be seen as a positive image when held up to the light. This technique is called Litophane and was made in Japan between the late 1930's and into the late 1950's/early 1960's, mostly for export.
Modern Dragonware is made for the souvenir industry and of poor workmanship. Usually from the 1960s and later.
Dragonware porcelain was first produced in the 19th century during the Meiji period 1868-1912), when Japan opened its borders to foreign trade and began exporting its goods to the West.
See also Moriage and more info on Lithophane