Japanese "Imari" decoration, (Aka-e)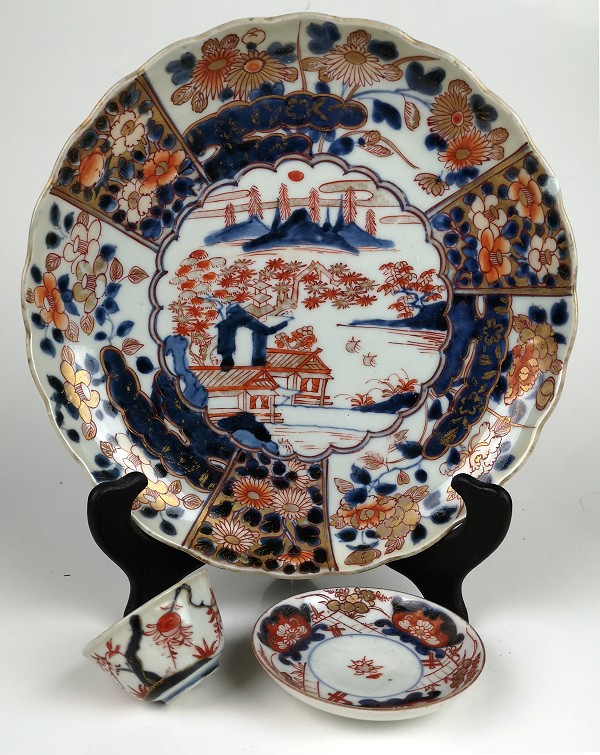 "Imari" is the Japanese port from which it was most convenient, due to its close proximity to the Arita town and kiln area in the present Saga Prefecture, to export Japanese porcelain made there, to Europe and America.
Because of this "Imari" become the trade name of Japanese porcelain with a characteristic decoration mainly in underglaze blue with added red, gilt and occasionally other enamels. The correct name on this decoration is aka-e (red painting) and was first produced around 1640.
These enamels was typically dominated by red with addition of gold while orange, pale peach, green and black also occurred. There was, on plates, quite often a central circular panel (the designs of which date back several centuries prior to this great increase in exports), bearing a basket of flowers, or the Three Friends of Winter (prunus, bamboo and pine), a peach, or a phoenix. Not all "Imari" followed this circular design, but the name was still applied in the 19th century (and today, even) to different design styles, still with underglaze blue, russet and gold.
"Arita" porcelain can be either blue and white or with "Imari" decoration in enamels and is often used as a name to distinguish export-style from porcelain made for the home market. Imari/Arita is rarely signed by individual artists while a single calligraphic Fuku mark is common, copies of Chinese Chenghua reign marks and the export mark Fuki Choshun are relatively common. (See the Marks Section for more information on marks)