Satsuma ware (Jp.)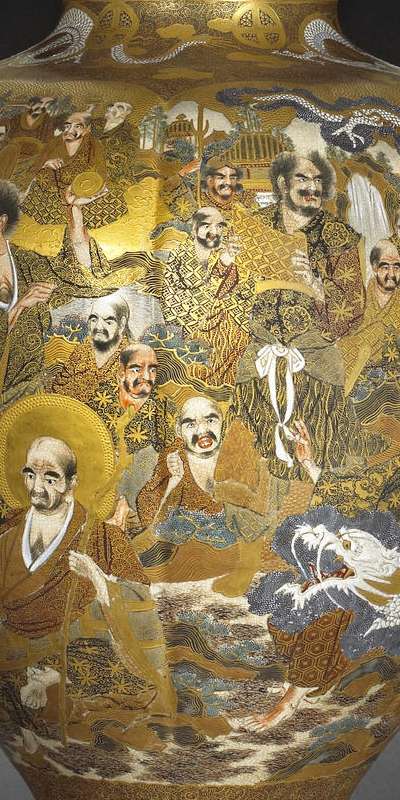 Kilns established in the Satsuma domain (han) in southern Kyushu by Korean potters in the late 16th century, initially producing stoneware covered with a thick dark glaze.
During the mid 19th century the well-known highly decorated ware was created in an appealing oriental design that became an instant success on the export market while having a very limited appeal to the Japanese themselves. The characteristic buff Satsuma earthenware body is slightly yellowish with a finely crackle glaze, does not have a "ring" when tapped and are also very light.
All Satsuma wares was produced mainly for export to the West. The production was located in several cities such as Kyoto, Tokyo, Nagoya, Yokohama and elsewhere, with Kyoto as the main center of production. Not even the presence of the Shimazu mon on the base of a Satsuma piece is a guarantee that the Satsuma object was actually produced in the actual Satsuma domain.
Some of the finest earthenware Satsuma wares were produced outside of the Satsuma han (area). Examples of this are Yabu Meizan whose studio was in Osaka and the Kinkozan studio, that actually was in Kyoto, and a whole number of other extraordinary Satsuma artists who worked in kilns scattered around Japan. Yokohama might well only have been used as a decorating center and not an actual manufacturing base.
Kyoto Satsuma
Satsuma ware occurs in different qualities where the better and more elaborate of this kind are usually called just Satsuma while similar items but less elaborate, decorated on a heavier stoneware paste or on plain white porcelain, is called Kyoto Satsuma or Satsuma style decorated porcelain respectively.
Kyoto Satsuma is the common name for Satsuma-style export wares produced by kilns in the Kyoto area from the Meiji period into the 20th century, where the Kyoto wares in general are heavier and more simplified in their details than the true Satsuma wares. The decoration is loosely applied and characterized by slip applied moriage. On earlier pieces we typically find light green enamels while on the later, we often find rich blue and dark red thick enamels.
Moriage
Moriage is a slip decoration of raised enamels. It occurs on Satsuma wares as early as circa 1890 but tends to be more carefully applied on early pieces. Moriage also seems to be limited to pieces made outside of the Satsuma domain while being typical for Kyoto Satsuma ware. Crudely applied moriage indicates a dating in the 20th century and was popular on true porcelain well into the 1950s. One of the more popular decorations in this manner is the well known Dragon Ware, where the slip decoration can be so generously applied as to look like cake frosting.
Satsuma style
For general naming purposes all these wares can be lumped together as "Satsuma" style. They have been labeled like this for years and as we have seen with other makers there was not one particular style used at Kyoto. Many Kyoto pieces can be similar in appearance to Satsuma wares. So it is easy to see the confusion. To most people these wares are all very similar and ultimately it might not matter exactly where they were made.