Chinese Soft-Paste Porcelain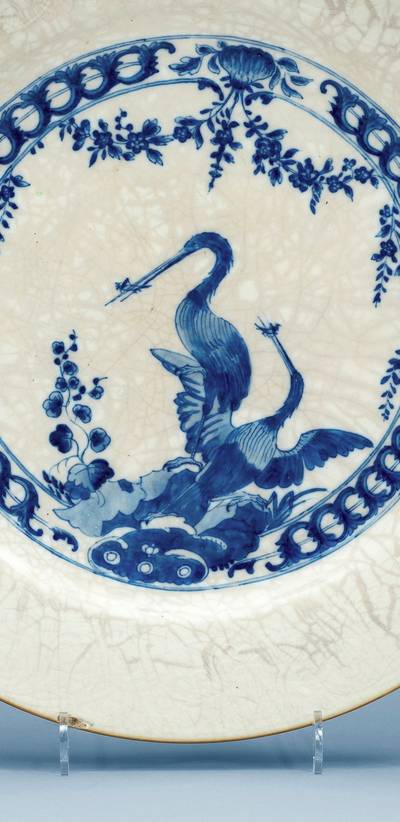 This is a close-up of a Chinese export porcelain plate made for the Swedish family Grill. The quality of porcelain for this service is amongst the best ever used for export porcelain and is likely to have been made with a very high kaolin content. As such it is likely that the porcelain would have needed to be fired at an extra high temperature in the kilns, at a physical space near the firing pit usually used for firing only the very best porcelain. For reasons unknown this plate did not reach high enough temperature for its paste to fuse properly and the glaze came out crackled and the body remained permeably for water i. e. its paste remained soft.
In Chinese Porcelain in the Collection of the Rijksmuseum Amsterdam, The Ming and Qing Dynasties by Christiaan Jorg and Phillip Wilson (The Rijksmuseum, 1997) Christiaan Jorg states that
"Chinese soft-pate porcelain, which is different from European soft-paste, originated about 1700 and became popular in the second quarter of the 18th century as part of the export assortment.
Unlike ordinary porcelain, it is not translucent and often has a creamy-white appearance. The glaze is often finely crackled as a result of a difference in cooling between the glaze and the body. The later is made of a white-firing clay, called huashi, 'slippery stone', the use of which is documented in the reports of 1712 and 1722 by the Jesuit Pere d'Entrecolles. As the clay was expensive, soft-paste pieces are usually small and thinly potted. They are also well-painted, as the body is particularly suitable for detailed drawing.
Besides this 'true' soft-paste, there are pieces with an ordinary porcelain body and a coating of 'huashi' clay, which gives the same effect".
My theory is that this 'huashi' clay or "slippery stone" is plain and simple kaolin that stiffens the porcelain paste and fires very white. For anyone who have ever handled Chinese kaolin clay there are almost no other things on this planet that are more 'slippery' then unfired kaolin clay. Handling a lump of this material is similar to handling a wet jellyfish. The name slippery stone would seem very appropriate, in particular since Kaolin is not a technical term, but the location (Gao ling, High Ridge) from where it was mined until at least the end of the Ming dynasty, where other sources were found.
Jan-Erik Nilsson