Falangcai (Foreign colors)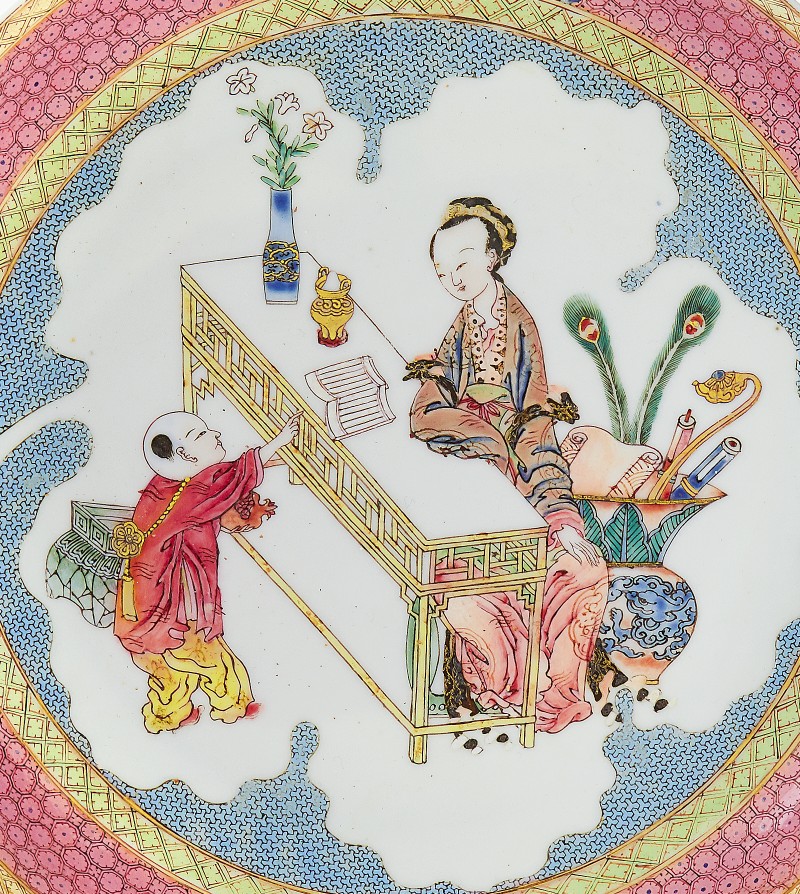 The introduction by the Jesuits of new enamel technology inspired a completely fresh approach to decorated porcelains, metals and glass with the advent of falangcai enamels. Falangcai, which can be translated as 'foreign colours', refers to porcelains painted in the Imperial workshops of the Forbidden City in Beijing decorated with enamels partly introduced from the West.
To the extent that an exact translation does not exists, it could be speculated that falang is a mispronunciation of the word foreign.
Falangcai differs from all other names of colored enamels families in that it was specifically only made at the Imperial palace workshop in the "forbidden city" (now Palace Museum or Gugong) in Beijing, by Western Jesuits who worked at the palace during the reign of Kangxi (1654–1722). Falangcai was produced at the palace for its exclusive use there. The difficulties in properly identifying these wares is aggravated by the lack of genuine examples which is believe to be less than a few hundred.
Ruby-red enamel was arguably the most special among the new foreign enamels, not only because it was dramatically different from all locally created colors, but also because it was derived from gold. The ruby enamel derived from colloidal gold and a lead-based white enamel allowed for a range of pastel tones.
The best of this fine porcelain had a short production period during the Qing Dynasty. Some of the best 'famille rose' porcelain was produced in the short, but important, reign of Yongzheng (1723-1735) which followed that of Kangxi and in the early years of Qianlong (1736-1795.
Recent research points towards that the first famille rose decorations was produced at the very end of the Kangxi period and not begun in the Yongzhen period as previously have been thought.