Shoulao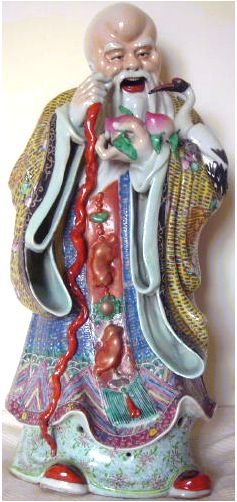 Shoulao, God of longevity. Usually recognizable by his tall, over sized forehead, representing wisdom and long beard representing long life. Attributes include peach and a staff, both symbols of longevity themselves, and said to come from Xi Wangmu's magical garden in Heaven where the fruits of longeivty (peaches) grows, and sometimes a deer or a crane. He sometimes also holds a scroll in his right hand.
The God of Longevity (Shou) along with the God of Wealth (Lu) God of Prosperity (Fu) are known as the "Three Stargods" or San xing.
Legend holds that Shou Lao began as a star in the southern constellation Argo, and he is sometime referred to as the Old Man of the South Pole.