SAMSON, Edmé et Cie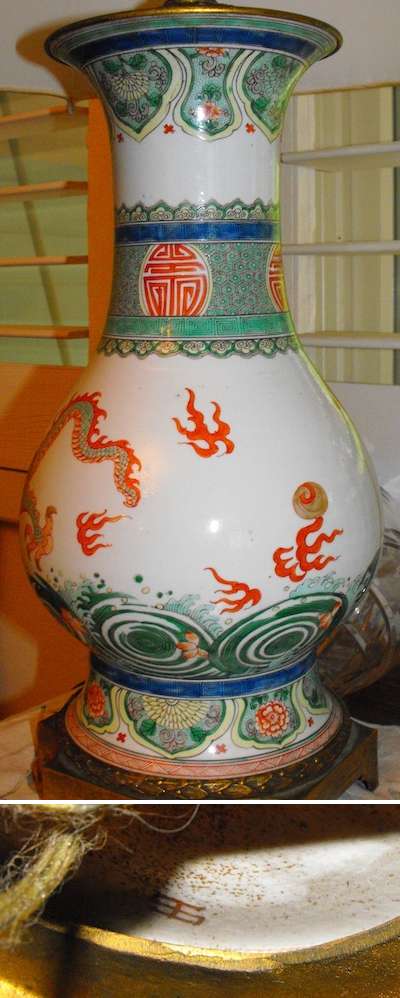 Edmé Samson was born in Paris in 1810 and established the porcelain company of Edmé Samson et Cie in 1845. Designs from the factories includes copies of of Chelsea (Gold Anchor), Meissen, Sèvres, and Derby inclusive of most styles of Chinese export porcelain such as in this case famille rose.
The firm uses a variety of marks on the reproductions and some of their pieces are not marked at all. Unmarked pieces are often very hard to tell from the original by the enamels only, who seems to have been extremely closely related to those of the Chinese themselves.
The telltale points are the underglaze blue which where it occurs usually turns out different then on the originals - usually darker, the porcelain paste itself, which lacks iron impurities, and doesn't turn red anywhere - and the glaze, which often shows a distinctive greenish hue where it has pooled.
In addition to their own unique marks, this company marked their items with symbols very similar to marks seen on the actual original pieces they were copying. However and in most cases, they added the letter "S" or some other sign to indicate that this was a copy.
The Edmé SAMSON et Cie company continued to produce accurate replicas or reproductions of older porcelain until 1969. The salesroom models were auctioned in 1979 by Christies, London. Today Samson's pieces are collectors items in their own right. Their items from mid-to-late 19th C are valued today as of high quality and are now considered to be essentially antique. Ironically not all pieces attributed to Samson are actually made by them, since there were many other Paris workshops producing similar 'copies' of earlier ceramics at the same time.
Samson marks are known to have been removed from some pieces to obscure the real origin of the piece. If so, this can usually be seen as a dull area where the mark has been. In a similar manner 'CHINA' and 'Made in China' etc. as well as other over glaze enamel marks have been removed from later Chinese export porcelain which complicates proper authentication. Some pieces described as Samson could also actually have been produced by Herend, Hungary.