Powder Blue, also soufflé blue monochrome glaze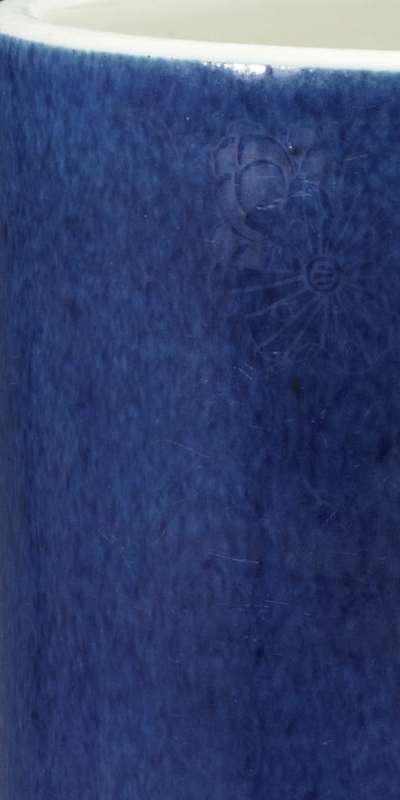 The glaze originated in the Ming Dynasty, Xuande (1425–35) Period, and was at that time called called "sprinkled blue" (sa lan) and also "snowflake blue" (xue hua lan) by the Chinese, of which today only a few examples survive.
A similar effect was sought during the Kangxi Period in what came out as powder blue. The cobalt blue was according to literary sources "blown onto the surface of the unfired porcelain body through a tube with gauze over the end". Hence the name powder blue, also known as soufflé blue glaze, and then covered with a clear glaze.
Powder blue became popular on porcelains in the Kangxi reign. The effect, when fired, was of a deep, finely mottled or soufflé blue. In some cases the blue covered the whole piece, in others, panels were reserved in white and decorated with over-glaze enamels in a second firing. The powder blue surface was often embellished with gold designs that more often then not have worn off.
Monochrome blue glazed wares have been made without break since at least the Ming dynasty and are usually a normal porcelain glaze with an addition of various amounts of cobalt. Monochrome blue glazed porcelain is often found with traces of worn off gilt decoration. The difference between powder blue and other plain blue glazes is the size of the cobalt particles. In the case of 'powder blue' the oxide particles appears visible as powder specks giving the color a mottled appearance.
Other glazes utilizing the same technique are robin's egg blue, iron rust and teadust.