Nose drinking cups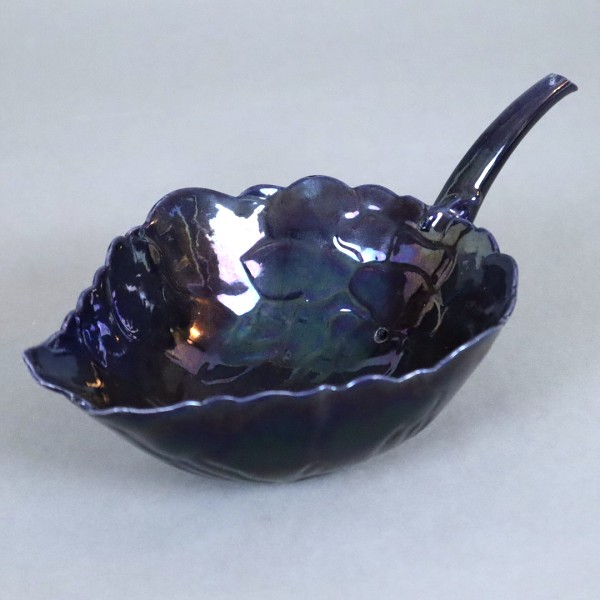 Open cups connected to a hollow stem, also called "sucking cups". Drinking through the nose is known from the Northern Song Dynasty.
In Jingdezhen Tao Lu translated by G. R. Sayer in 1951 there are the following entry # 65, page 90,
"Southerners practice nose-drinking. They have pottery vessels like cups or bowls with a small tube like the lip of a bottle fixed at the side they apply their nostrils to the tube and snuff up the wine. The cups are used in summer to snuff up water and are called 'nose-drinking cups'. The water enters the throat through the nostrils and provides an indescribably delightful sensation. The people of Yung-chou already do this. It makes one guffaw to record it."
The source Tao Lu is citing is a Treatise on the Geography and Natural History of the South of China, dated to the eleventh century or, mid Northern Song. During the Kangxi period the nose cups (in floral form) were produced in susancai palette and sacrificial blue in lotus and peony shape as the Song practice of inhaling beverage through the nose was reintroduced as a brief amusement for the Kangxi court, somehow possibly related to the emperor Kangxi's extensive travels through the newly conquered Southern China.
However, this practice is said to have been short-lived but again becoming popular during the Guangxu period, with cups in the shape of a flower head. A larger type was decorated in the famille rose palette and a smaller, decorated in green. Known cups from this period are inscribed at the stem as, being 'remembrance cups from the autumn military exercise at Anhwei in the 34'th year of Guangxu', i.e. 1908, the year in which both the Guangxu Emperor and the Empress Dowager Cixi died.
As a personal reflection despite that these leaf formed vessels with a hollow stem do exist, I think any possible confusion with the South East Asian 'Kendi' or kundika that might have occurred during the centuries, are worth considering, since kendies are very common and used specifically, as a drinking vessel, where you specifically, are supposed to drink from the spout.