Camcheng (Kamcheng)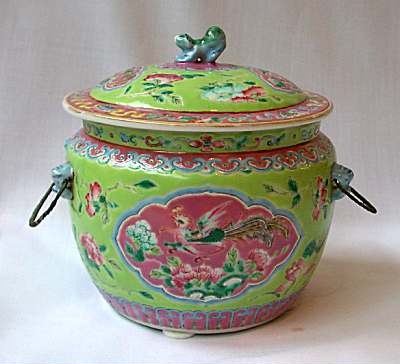 Literary "covered tea cup" in the Hokkien dialect. In Straits Chinese usage meaning "covered bowl. Camchengs comes in several different sizes and their use differed from ceremonial purposes to serving of soup. The larger were used for pickling vegetables.
A 'camcheng' could be used as a container for water, pickles and other types of food. China exported a large number of these ceramics to the Straits Settlements communities in Penang, Malacca and Singapore in the 1800s, where a distinct culture evolved known by the Malay word 'peranakan', which describes those who were born locally, whether they be Chinese, Indian, Arab, Indonesian or another.
The word Baba describes specifically Straights-born Chinese men, while the term Nonya is used for the women, and it is this latter term that has been adopted to describe the Chinese ceramics made at Jingdezhen to the order of Straits Chinese from the 1850s to the early 1900s.
The wares were of two types: richly decorated enamel wares for use on auspicious occasions, and functional blue-and-white wares for everyday use.