Batavia brown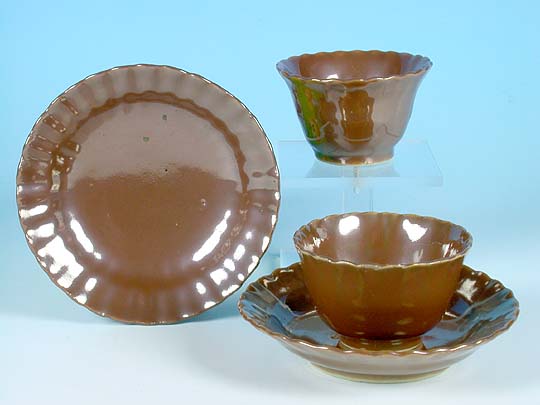 A decorative style within Chinese export porcelain using a surface covering brown glaze with or without panels in conjunction with underglaze blue or enamels. The wares appears to have been named after the city of Jakarta which at that time was the Dutch East India Company trading center in South East Asia, or Batavia.
The decoration also seems to have been particularly popular with the Dutch to which the word Batavia could have been used as a synonym due to the Chinese djonk trade and the trans-shipping onto Dutch ships via their trade entrepot Batavia at Jakarta.
Export wares with this decoration were common throughout the first half of the 18th century and included rounded dishes, vases, tea pots, tea bowls, saucers, lidded jars and other useful wares.
The style was preceded by a similar in light Celadon green, with or without combinations of under-glaze blue, appearing c. 1660-80 in both Japanese Arita wares and in Chinese porcelain.
In Kangxi period porcelain it is also common to find pieces where a brown background are combined with panels of underglaze blue or Famille rose or Imari enamel decoration, for example on small rose water sprinklers and water bottles.
As one of the earliest examples of 'Batavian' style iron brown glazes with wucai style enamels within panels, is a square Japanese Arita ware bowl dated 1699.
The foundered East Indiaman Gotheborg (1745) was found to have a significant proportion of Batavia style decorated porcelain in its cargo which proves it was not entirely intended for the Dutch market. The decoration seems to have been revived during the early 19th century primarily on wares intended for export to South East Asia.
The brown glaze usually found on the outside of pieces and on the underside of dishes and outside of bowls occurs also in several shades of which some are distinct enough to have got names of their own, such as a light brown version called Café au lait.