Qilin - Mythical Animal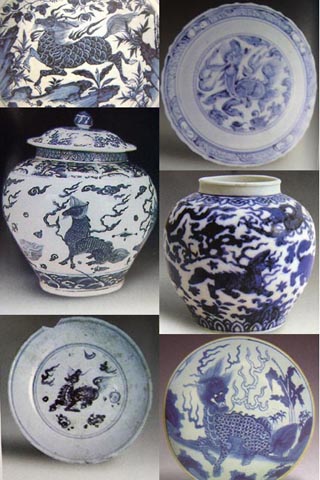 Unicorn - qilin, (Wade-Giles ch'i-lin), - symbolizes benevolence, rectitude. A good omen. Symbol of Military Officials of the 1st Grade. In Chinese mythology, the unicorn whose rare appearance often coincides with the imminent birth or death of a sage or illustrious ruler. (The name is a combination of the two characters qi "male," and lin, "female.") A qilin has a single horn on its forehead, a yellow belly, a multicolored back, the hooves of a goat, the body of a deer, and the tail of an ox. Gentle of disposition, it never walks on verdant grass or eats living vegetation.
The first qilin is said to have appeared in the garden of the legendary Huangdi (Yellow Emperor) in 2697 bc. Some three centuries later a pair of qilin were reported in the capital of Emperor Yao. Both events bore testimony to the benevolent nature of the rulers.
The advent of a great sage was made known when a qilin appeared to the pregnant mother of Confucius (6th century bc). The qilin thereupon coughed up an inscribed jade tablet that foretold the future greatness of the unborn child. The death of Confucius was foreshadowed when a qilin was injured by a charioteer.
In 1414 a live giraffe was brought to China for the first time and presented as a qilin to the Ming emperor Yongle (1403-1425). The tough old warrior, seeing through the intended flattery, curtly remarked that he certainly was no sage and the animal was certainly no qilin. In Japanese, a giraffe is called kirin, but the characters are those for qilin.
A qilin is a fabulous creature which appears in various forms and is associated with the wish for sons. In English it is sometimes described as a 'Unicorn' but this is misleading as the qilin sometimes has more than one horn.
The qilin was also used on the 'badges of rank' as a symbol for the highest rank among the military officials.
The qilin was a popular figure in Chinese mythology because it was associated with a wish for sons. Generally the unicorn was defined as a benevolent creature which lives in the Kunlun mountains and represents good fortune, fecundity, and filial piety. The last attribute reveals its association with Confucianism as in Confucian legend, the qilin appeared to Confucius' mother just before he was born.
In the Chinese mythology it was also one of the nine sea monsters. The qilin had the head of a dragon, the body of a deer but scaly, the tail of a Buddhist lion, and the hooves of a goat. In decorations, the qilin is sometimes mistaken for a deer.
The qilin first appears in Chinese art of the Han and Tang dynasties including Han ceramic tiles. It is mentioned in Han poetry and the Shi Jing (Classic of History) and qilin sculptures can be seen guarding tombs of the 5th century AD.