Monochrome ji lan Sacrificial Blue (also Bright Blue ji qing) Chinese glaze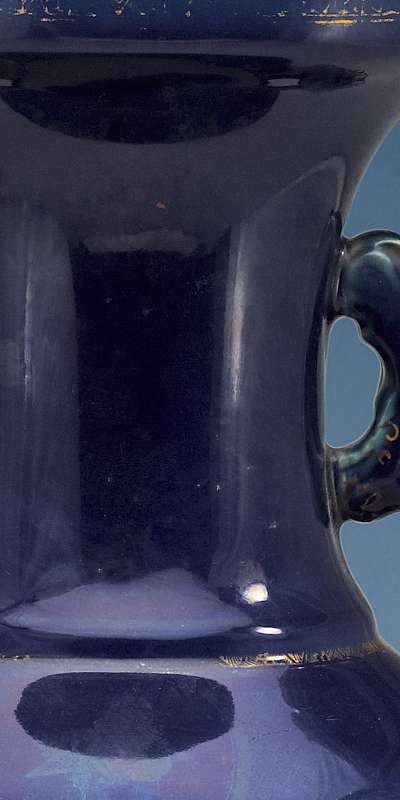 A monochrome blue glaze, dating back at least into the Xuande (1426-1435) reign of the Ming dynasty where this glaze was ranked among the top three, together with the sacrificial/bright red (ji hong) and sweet white ware (tian bai).
Regarding the names, sacrificial (lan) blue comes from the fact that porcelain for the Altar of the Heaven was made i this blue glaze. For objects not intended for sacrifice, the name bright (qing) blue was more common even if the glaze is the same.
During the Yuan dynasty large dishes are found with white decoration against a monochrome blue ground of the same kind. This technique started in the Yuan dynasty while the best pieces appears to have been made during the Xuande period of the Ming dynasty.
Monochrome blue glazed wares have been made without break since at least the Ming dynasty and is basically a normal porcelain glaze with an addition of some cobalt. This glaze is often found with the addition of worn off gilt. Also often mistakenly called 'powder blue' which it is not. Usually the difference between powder blue and sacrificial (bright) blue is the size of the cobalt oxide particles, since the glaze probably in both cases was sprayed on.
In the case of 'powder blue' the oxide particles appears visible as powder specks giving the color a mottled appearance. Occasionally in the case of powder blue, the cobalt might have been sprayed on in a separate coat followed by an extra coat of transparent porcelain glaze.
Other high temperature blue monochrome glazes are clair de lune (same but with lower cobalt content) and powder blue (sprayed on cobalt powder). Among the monochrome blue and bluish glazes there are several other of low and medium temperature types that are using salpeter or lead as fluxes.