Ardebil [Ardabil] Shrine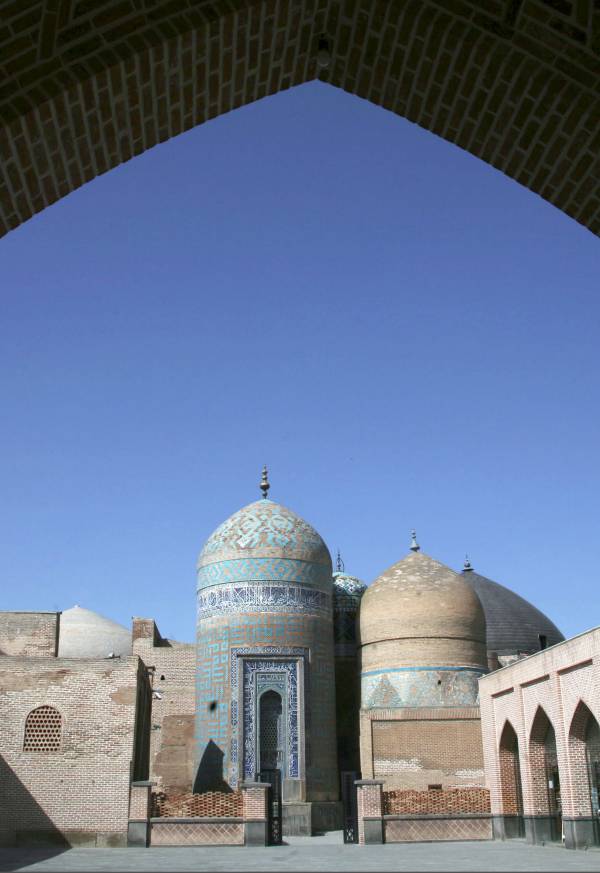 There are only two really important historical collections of classic Chinese porcelain, including the best blue and white, outside of China.
One is the very well known and much visited collection well presented in the Topkapı Sarayı Müzesi in Istanbul, which was collected over a period of 500 years, by the Ottoman Sultans.
The second is that of the Ardebil Shrine which Shah Abbas in 1611, presented a collection of Chinese porcelain pieces in memory of the spiritual founder of his line, the Sufi Sheik Shaykh Safi al-Din, to be housed in his shrine in Ardebil.
This collection is little researched and little known even inside Iran.
One of the main sights in the town of Ardabil in north-west Iran is the shrine of Shaykh Safi al-Din Ardabili, who died in 1334. The Shaykh was a Sufi leader, who trained his followers in Islamic mystic practices. After his death, his followers remained loyal to his family, who became increasingly powerful.
In 1501, one of his descendants, Shah Isma'il, seized political power. He united Iran for the first time in several centuries and established the Shi'i form of Islam as the state religion. Isma'il was the founder of the Safavid dynasty, named after Shaykh Safi al-Din.
In 1956 John Alexander Pope at the Smithsonian Institution, Freer Gallery of Art, Washington, wrote a book, Chinese Porcelains from the Ardebil Shrine. This volume constitutes not only an excellent catalogue of an important collection of Chinese porcelains in the Ardebil Shrine in Iran, but also a major contribution to the understanding of Ming wares as a whole.
This important but little studied collection of Chinese porcelain was amassed by Shah Abbas the Great and presented by him to the Shrine of Sheikh Safi at Ardebil in 1611. According to a contemporary chronicle, there were some 1162 vessels of various sorts.
In 1956 the collection, however, consisted of only 805 pieces, of which more than three-quarters were blue-and-white, eighty were plain white, fifty-eight are celadon, and the balance a miscellaneous group of polychrome and monochrome wares. In the opinion of Dr. Pope, most of the pieces in this collection probably came as trade goods by land and by sea over a rather lengthy period. In general the average quality of these "export" porcelains is very high, and a sizeable group is of the finest quality.
The Victoria and Albert Museum have in its collection one important carpet originally from this shrine.
The Ardebil shrine, the Azerbaijan museum in Tabriz as well as the Islamic Art museum in Tehran all have ceramics from the Shah Abbas donation on display, the largest number in Tehran. Therer are various Chinese ceramics with the incised mark of the donation. Not all ceramics at the Ardebil shrine are 17th century however, although the labels say so.