Occupied Japan (1945-1952)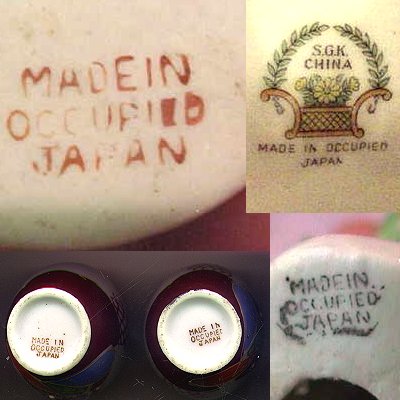 For the period from the end of World War II in 1945 through April 28, 1952, the United States and its Allies occupied Japan. The Occupation involved approximately 130,000 Americans (both military and civilian) and about 35,000 British Troops based in Japan. SCAP (Supreme Commander for the Allied Powers), led by General MacArthur, wrote a new constitution for Japan.
As Japan needed to rebuild their economy after the war, part of the agreement to allow them to export goods out of their country was that they had to mark 50% of all items with "Occupied Japan" or "Made in Occupied Japan." This could be done with a paper label, cloth label (as on scarves, doilies, clothing), engraved, handwritten or stamped. Thus, you may come across things, such as a salt and pepper set, where only one of the pair is marked OJ and the other will just have "Japan" on it. The tags, labels, marks were placed on the items in Japan, before they were exported to other countries.
During the last 2 years, 90% of the items were kitchenware, which is why we have a proliferation of china, dishes, vases, etc. with this mark, compared to other types of objects. Many of the figurines were cheaply made, and looked it. But the Japanese had a wonderful talent for mimicry - you will find pieces that you would swear are Dresden and when you turn them upside down, you will find "Made in Occupied Japan!"