Chatter marks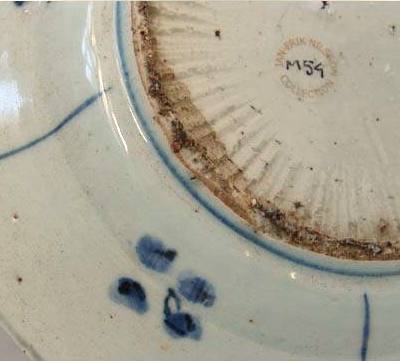 Generally speaking chatter marks are a typical feature of pieces made during the first half of the 17th century date - late Ming/Early Qing, but as with everything else, exceptions occur. Traditionally in the antiques trade, it was felt to be confined to Ming dynasty, Tianqi period (1621-27), which is obviously too narrow a span, but, that was anyway the case.
From the time span during which it occurs it would seem as the feature came and went with one generation of potters. The feature also coincides with the increased porcelain production that signified the end of the Ming dynasty. It can occur in later periods since it is not something unique but mostly signifies rapid production, and a dull shaving tool.
These radiating marks are caused by the vibrations of the potters tool used to flatten the base of a porcelain item. These marks are regarded as an expected sign of authenticity on late Ming period export porcelain pieces and usually only faintly perceived under a clear glaze. The bases of these wares are rarely left unglazed but in those cases, the marks can be seen clearly. This feature can be found on fakes but might not look convincing.