How it All Started;
The Beginning, Purpose and The Many Unsung Heroes
of the Gotheborg III Project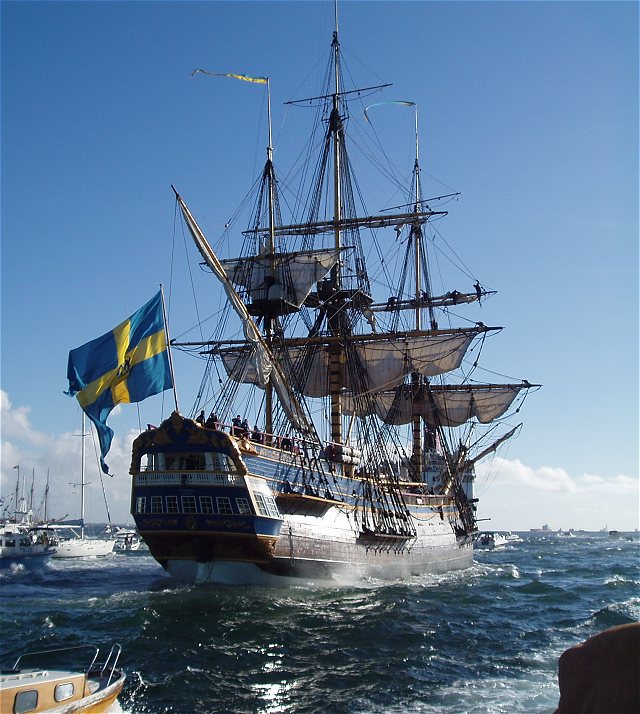 An adventure that started in 1738
and haven't really ended yet.
The whole project was so intense, with so many things happening and so many people involved, every single one of them important, that it is difficult to know where to start. But when I think back, there is one picture that comes to mind. It is in the murky office of Göran Sundström, the head of the Maritime Museum of Gothenburg. Anders Wästfelt is laying on the floor playing with a large dog, a big black Labrador, who was quite happy about having his ears ruffled by Anders. Meanwhile, Anders was discussing the possibility of excavating the Hunnebådan wreck site, and using this to educate amateur divers in marine archaeology. Göran saw no problems with that since the site was already very disturbed, so why not.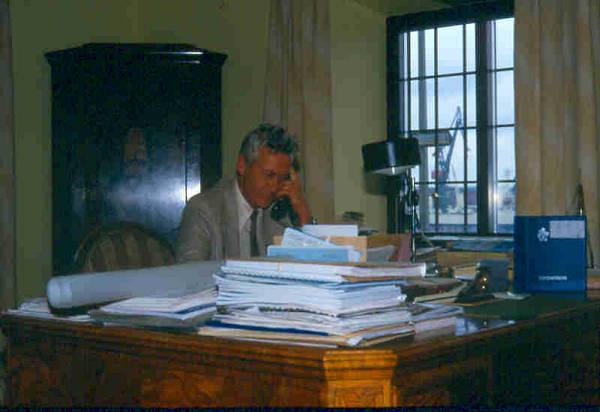 The Excavation Period
The excavation was run as publicly and openly as possible. It caught the imagination and sympathy of wide swaths of people, from international to local governments, to the Swedish industry, and our tourist and business community, not to mention the public who all loved it. During the last few years of the excavation phase, Anders Wästfelt began to conclude his hundreds of lectures and presentations with the finale: that we should build a full-scale replica of the original ship Gotheborg and then sail to China again, often adding that this time, upon our homecoming, we shall not run into a rock and sink. I still don't understand way that brought laughter and applaudes. We were dead serious.
You can't really say it was only Anders' idea to try to build her all up again. Everybody involved was thinking about what she had looked like, and felt like, to sail. I think there you have it. But it was he and a small group of super enthusiastic people who took the idea and pushed it through to completion. Initially, my first thought was, 'what if we could pick up all that old wood lying down there in the water to see if we could piece it back together?' But that was of course impossible. Too much was missing and what was left was in a miserable condition.
But what if we could figure out what she had looked like and build a replica? Really? It was impossible to let go of that thought.
Gathering momentum for a shipyard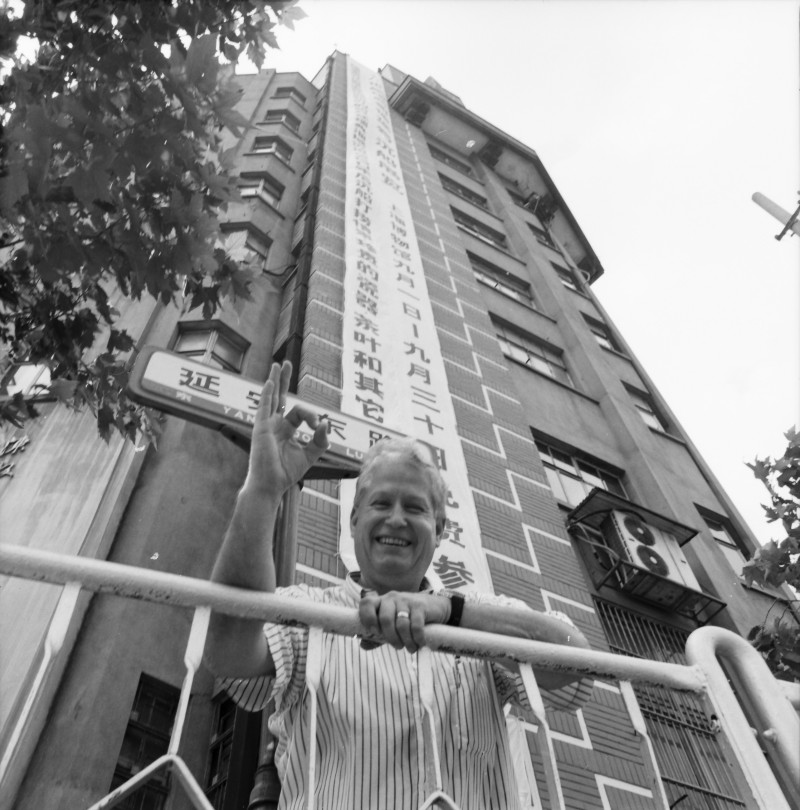 In September 1992, upon returning home immediately after the closure of the final International marketing exhibition of excavation finds at the Shanghai Museum the decision was made to establish an organization to facilitate the construction of a new 'Ostindiefararen Götheborg III,' Anders posed the question to Joakim Severinsson: would he be willing to take the lead in a ship reconstruction project, provided Anders could establish an organization to support it? Joakim hesitantly accepted the challenge and almost immediately produced a blueprint. As if he hadn't been thinking about this, too.
To enhance the project's appeal, it was suggested that we added; - and to undertake a new voyage to China and back, to the vision. Anders and Berit set out to create the organization, activating their massive network of friends and supporters, at which time I formally joined the initiating core management group, meeting weekly at the former excavation headquarters at Skateberg, Lindholmen.
In October 1992, we had worked out the idea enough to be presented. Maybe it is worth pointing out that there was no customer who wanted this to be done. It was just us. There was nobody to complain to about the grueling working hours or lousy pay. There was no pay. We couldn't even officially hire ourself since our new company SOIC AB would immediately have gone bankrupt due to lack of funds. If we had walked home one day, the whole thing would have stopped.
Since I had had the possible reconstruction project in mind for years when the excavation period was being wrapped up, I had encouraged Anders to ask Joakim to spend the last years of the excavation focusing explicitly on surveying any remaining parts of the ship's hull and construction details to aid in creating a replica. He was then tasked with developing a realistic construction blueprint for the ship we would set out to build. Anders Wästfelt explored our financial and market considerations, which is corporate B.S. for talking to God, the D*vil and everybody in-between, about what we wanted to do and if how they could help. Berit Wästfelt sourced for talent (assessed the personnel and staffing needs), given the project's demands for exceptional personal skills and determination. My role would be documentation, and as an arts historian and marketing professional, I would assist Anders with conceptualizing the project to fit the sponsors we needed.
Here is the time to mention Bo Alfredsson, living in Stenungsund and at the time working as a property developer for the nearby Hotel 11. He immediately saw the potential of this crazy project, to become a focal point for western Swedish entrepreneurs and a future media hub. He knew what we were building and why, long before anyone else. Basically, I just added history and IT to his vision. I would say that, in short, that was all there was to it. That was the river along which everything else flowed.
Passion and willpower goes a long way. Together, we set out to launch a multifaceted project that would garner support and provide benefits to as many groups as possible. We based this on our firm conviction that China was just a few steps away from becoming an important trade partner. We were convinced that this project would present a unique opportunity to reconnect the Swedish export industry at large to this rapidly developing market. At this time, when the Cultural Revolution was still in clear memory, we were often chided for our naivety. But we did not laugh. Nor did the Chinese trade delegations who soon started to arrive in limousine caravan, after caravan dragging their reluctant Swedish hosts after them, who hadn't heard about what we were up to.
Neither did the Swedish export industry.
A rapidly growing China
The large Swedish export companies were there alright, struggling along, but in the early 1990s this was far from the common understanding of things. To most, China was far away and of interest only for those that was taken in - or abhorred - by the Chinese 'Mao-ism' and the Cultural Revolution (1966-76). It took an active interest to see what was going on, on the East and Southeast Asian part of the Pacific Rim, to be aware of Deng Xiaoping and his plans.
Shenzhen
To the Swedish import and export industry the creation of the Special Economic Zone around the hitherto sleepy fishing village of Shenzhen, just across the border from Hong Kong, was changing the map of international trade. Art Historians on the other hand was worried that what the Cultural Revolution had failed to destroy of the Chinese history, the economic and industrial revolution would do. Foreign investment was now welcomed into China and foreign technology was brought in, and of course copied, and the economic growth was attracting momentum.
Ship project
We were convinced that our ship project - that aimed to re-connect our traditional good and peaceful trading relations with China, and that would send a trade delegation of a kind the world had not seen in hundreds of years, smack in the middle of this economic zone - could be a sensational success.
'Sister City' agreement with Shanghai
I must say again that what we saw back then was not a common knowledge. Through my position as secretary in Lars-Åke Skagers brainchild, The Gothenburg 'Shanghai-Gothia Club', created as a result of the friendship 'sister city' agreement signed between Shanghai and Gothenburg in 1986, that he had come up with, and Anders and Berits' network of cultural and commercial experts and advisors, we had a rare understanding on what was going on in China at this time.
The Terra Nova Shipyard period
Eventually we got the project going. Chinese delegation after delegation visited us, they came, looked and eventually dragged along their unwilling Swedish hosts to see what we were doing - maybe the grandest friendship gesture ever made between any country and China - that was genuine from the ground up and not initiated nor run by any official authorities.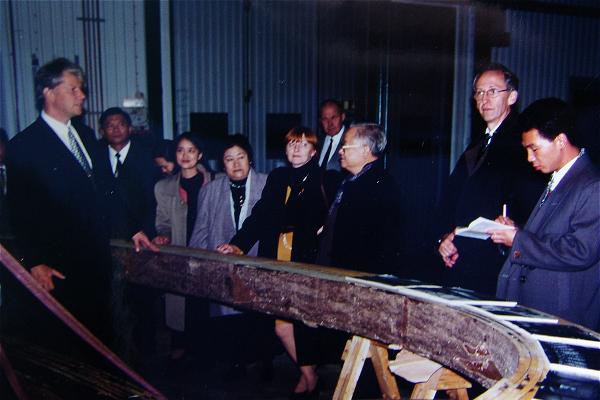 A private initiative
It was and actually remained a completely private initiative, run by a handful of people who were volunteering their work, and still going down to the shipyard and working for it on a daily basis. With - and that need to be said - the support of a very large number of knowledgeable friends and advisors, upwards of a thousand small and large sponsors and many private individuals.
The Project turns official
Eventually the official Sweden warmed up to the idea, and eventually started to promote our project, as their own.
Maybe this was inevitable and maybe that was what we ultimately had wanted however, we were not ok with the ham handed way it was presented, or pushed through. We can even set a date on, when we got this 'offer we couldn't refuse'. However the project wasn't ours to give away just like that, so we of course refused, and of course that didn't change a thing.
The Sailing Ship and Beyond Period
Still things worked out pretty well. Eventually the ship got built and between 2005-2007 made its spectacular voyage to China and back that we had planned for.
Today I don't think anybody feel anything but pride about this project, and that this ship was actually built and actually conclude its travel to China and back. I also think it did accomplished much of what we wanted anyway.
Here I have tried to put down a brief history of how this remarkable project came to be and some on how it was followed through. Most every other aspect has been covered by other sources, countless books, TV-programs and interviews, thousands of newspaper articles and I believe even a couple of movies, in both Chinese and western media.
Everything is pretty much covered except how, by whom, and why, it was actually started.
What we knew for sure when we started this in 1992 was that it would become a very beneficial project for a lot of people, and maybe make the world a little better place, if we could swing it. And that we would call it the The Swedish East Indiaman Gotheborg III Adventure.
This is the story on how it begun, and how the whole thing worked out.
Currently my big heroes are the people who put this beautiful ship and its rigging together, and those who now actually are sailing her. Personally I didn't expect anything out of this project except the experience of building it, understanding a little about how it felt for those who originally did this for real in the 18th century. For the farm boys who sailed her to China and back, looking at the wonders of the world and hopefully bringing some culture and a little bit wider perspective on things, back to Sweden. And to see and feel how a real East Indiaman looked and felt to move inside. And to see her coming back to Sweden after a successful voyage to China and back.
And hopefully make the world a little better place.
Just basic stuff, like that.
Jan-Erik Nilsson
Original co-founder
Gotheborg III Management group 1993-1998
Gotheborg.com