A visit to Jingdezhen with Bo Gyllensvärd, in 1992
Sunday 6 September 1992
From Shanghai to Jingdezhen via Nanjing
It was time to leave Shanghai. We were boarding 'Train number 2' that was quite modern and was air-conditioned. It was actually a little bit of a disappointment. In the back of my mind I naturally had the stories told by innumerable adventures that had went to and traveled in China, by train. Very clear in my mind was in particular Orvar Karlbecks book Tsin Pu Tie Lu that even begins with him leaving Shanghai in June 1908 by train to go to Nanjing on the at that time, newly opened railroad.
I even have Nathaniel Wessen's own copy of that book, soft bound and almost worn out, in my bookshelf back home.
I looked out through the windows at the landscape that whizzed past. I wonder how much that life had actually changed for these rice farmers working their fields today as before, during the 80 years that had passed since Orvar Karlbeck traveled on these tracks.
Evening arrival in Nanjing
It was evening when we at 5:45 PM arrived in Nanjing, the 'Southern Capital' where so much had come to pass in the history of China. When you come from years of study and finally set foot on the real thing it can be pretty overwhelming in a way that other people can't really understand. To most people here and now Nanjing is the Republic period capital that was taken by the Japanese during absolutely horrible sufferings. But to me, this is also the capital of the first Ming emperor, the whole Yuan dynasty was ousted from China with this as a base. It is also the location of the near magical Porcelain Pagoda Bao'ensi or the Temple of Repaid Gratitude that was all but destroyed in mid 19th century, and here was also the home of world traveler and explorer, the 'admiral' Zheng He. It is a lot to think of and absorb.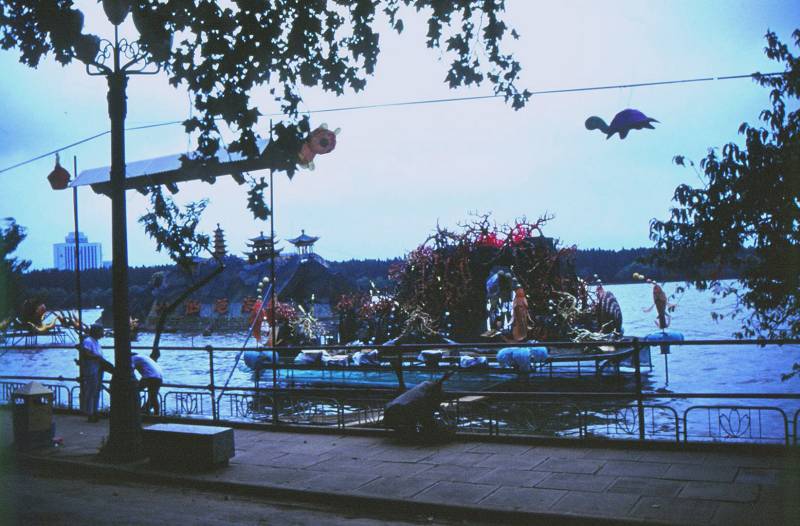 Our connecting overnight train would not leave until late so basically we hired the guide that had come to meet us and his coach, to show us around in Nanjing. We saw some of the ancient Ming period city walls, the park with the five islands and a 'pay turtle' in plastic. The 'pay turtle' was a modern glass fiber contraption that was parked on a bridge at the Xuanwu Lake so that any tourist that didn't find the lake interesting enough could pose together with the plastic turtle to have their photos taken. The intention of the owner was that anyone wanting to pose with his turtle was to pay some for this. It took a little while before we got this figured out.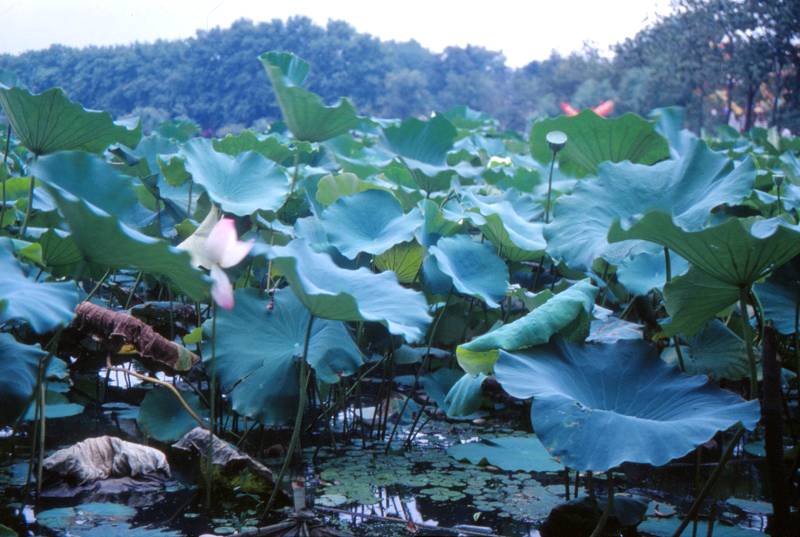 On the practical side I am dragging along a camera equipment that weighs a ton and on top of that the driver is getting angry with us for tipping him too much. Well, you learn and you, well, learn.
The evening ended with a European buffet at a hotel in Nanjing that until recently was said to have been the tallest building in China. Allegedly they had 2,000 employees and 700 rooms. The figures seemed unlikely but it appears to me as if the Chinese are right now consciously expanding their infrastructure with railroads for cargo and labor force transports, airports for business men and Hotels at the hubs. To this ends it appears as if every position in the hotel industry that could be handled by one person, are staffed with three, of which two are there to learn.
In this way hordes of knowledgeable hotel staff would be trained and in their turn would be spread out onto new hotels and mixed with new trainees. Internships are mixed with theory and language studies. While they have difficulties with practicing pronunciation you can often communicate by writing in English.
Late night departure from Nanjing to Jingdezhen
At 10:15 PM in the evening our Train 389 departs for Jingdezhen. It is a night train, a so-called 'Soft Sleeper'. I have traveled with these before and admittedly don't want to know what a 'Hard Sleeper' might look like. It's crowded and extremely warm. The textiles are fine but everything else is covered in soot. The trip went from Shanghai due west and eventually turned to south.
It is difficult to decide what is worst. The temperature, the jarring noise from the train, the roaring air that whirls through our room and trashes our bed sheets as broken sails if we try to have the window open, or the grinding rattle from the green steel 'war lord era' electric fan that our room is equipped with, if we try to have the window shut.
Jarl decisively put the fan out of its misery by stabbing the electric cord with a pen knife and we settle for having the window 'almost closed' as a compromise.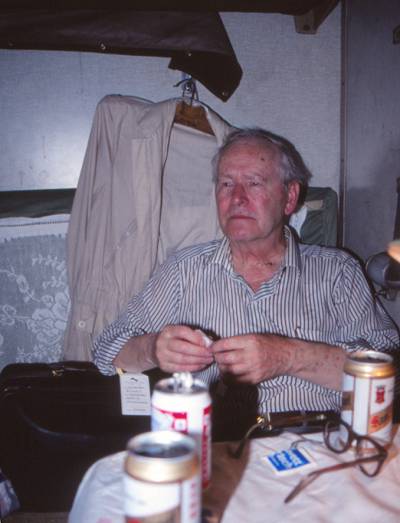 The night is spent in good mood and with good friends. Jarl miraculously produces a nifty leather box with a number of small steel cups and we brotherly share a much needed night cap. This set was never to be seen again. I must assume that the wind hurled it out through the window during the night.
So much for looking for a little bit of 'authentic adventure'.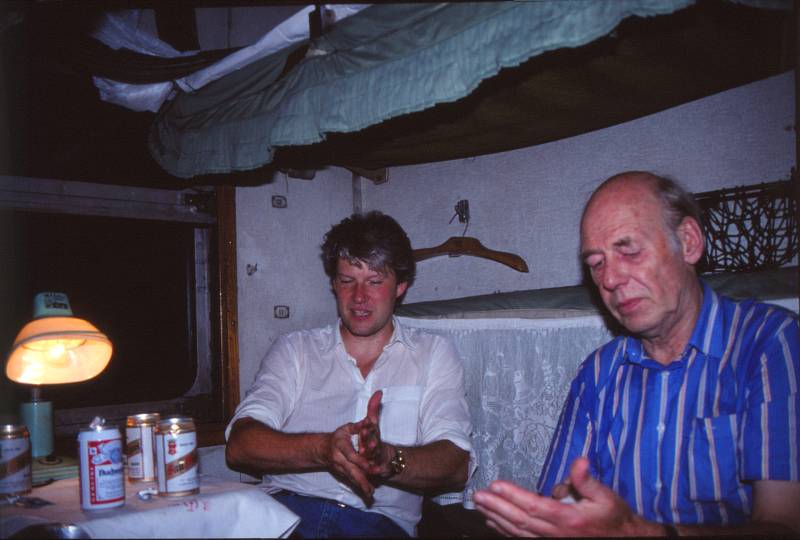 This is my diary as it was written in Jingdezhen and Beijing the 4-24 September 1992,
after an invitation and journey to study the recent findings from the excavations of the Imperial Ming Kilns at Zhushan and other aspects of the ceramic history of China, in and around the city of Jingdezhen. My travel mates beside professor Bo Gyllensvärd were Jarl Vansvik and Erik Engel. My eternal gratitude goes to them, Dr Liu Xinyuan and all our friends at the Archaeological Institute of Jingdezhen. Text and photos on this web page are copyright as published © Jan-Erik Nilsson, Gotheborg.com, Sweden 2014.