Unknown mark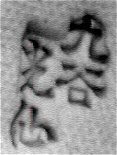 I apologize in advance, for I know this is not 'Antique', but I would be grateful if you either know what this mark means... or could perhaps direct me to someone who could quickly explain.
---
Kutani
Your mark is Japanese. The two first characters says Kutani (= nine valleys). Since the rest of the marks seems to be a signature of the potter and I am not that good on Japanese porcelein to be certain, I suggest you make a special search for "Kutani" on the web and sees what comes up. If you need further help, please contact me.
Thank you for your interest.
Best regards,
Jan-Erik Nilsson