Bowl marked "CHINA" in black ink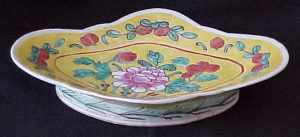 I would appreciate your help in identifying a piece I have.
I believe that it is early to mid 20th century Chinese export porcelain.
The underside of the bowl is stamped in black ink "CHINA". I believe that this was made prior to WWII and is some type of serving piece. I would very much appreciate your opinion as to
what the piece is or was used for
is the design a lotus blossom; and lastly
the time period of the piece.
The footed bowl is 10 1/2" long x 7" wide x 2" high.
---
Chinese food serving dish
Since your piece is marked "CHINA", that would indicate a date between 1891 from which point it was required by US Federal Import Law and 1919 when this mark should have been replaced by "Made in China".
The single "CHINA" mark does occur on pieces made later and actually up until today.
The style of the piece should anyway date it to late 19th century or possibly as you suggest, a few years into the 20th century.
The flower in the middle is a Peony, which above all symbolizes female beauty.
Regarding the surrounding flowers your guess is as good as mine - lingonberry?
The piece in itself is a Chinese food serving dish, since Chinese meals are always made up of several dishes - fish, meat, pork, poultry, vegetables etc, each of which are served on individual dished, like these.
Jan-Erik Nilsson