Daniel Nicholas von Höpkens, c. 1735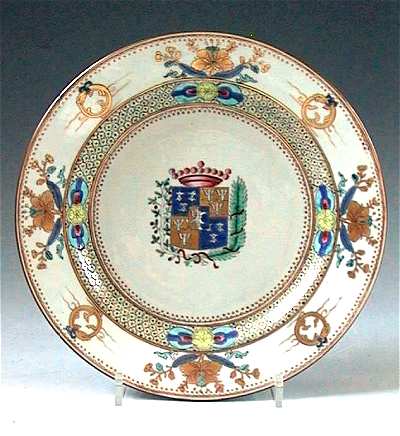 The arms are of the Swedish noble family von Höpkens.
This plate is from Qing dynasty, Yongzheng/Qianlong period c. 1735. It could possibly have been ordered through the founder-director Colin Campbell himself during the first ever voyage made by the Gothenburg based Swedish East India Company, which expedition he personally lead as Premier Supra Cargoe and Ambassador Plenipotentiary of the Swedish Majesty the King Adolph Friedrich of Sweden, in 1732-33.
Colin Campbell had fled from England in 1723 having being deeply involved in - and lost his fortune and apparently many of his friend's - in the "South Sea Bubble". After a period as a director of the Austrian East India Company in Ostend, he went to Gothenburg where he as the largest shareholder together with Nicholas Sahlgren and Henrik Koenig became one of the founding fathers of the Swedish East India Company.
In 1631 the family of Hopkins had settled in Sweden, declaring that they were of ancient English origin and had fled the country during the persecution of Queen Mary I but stating that their family had anyway been ennobled by the Emperor Maximilian II already in 1571, thus Höpkens also became ennobled in Sweden in 1647. Daniel Nicholas von Höpkens (1669-1741) was created Baron in 1719 and became Minister of the Home Department in 1720.
While Secretary of the State for Foreign Affairs Daniel Nicholas von Höpkens had already been granted a charter for the founding of a Swedish East India Company already in the 1720's but was probably unable to raise the necessary capital. When the SEIC actually got founded a decade later, Daniel Nicholas von Höpkens came to participate as a shareholder.
Some further reading: : Full page illustration in full color, in S.T Kjellberg, Svenska Ostindiska Companiet, p 234. Most books on Chinese Export porcelain for the Swedish market illustrates and discuss this important early Chinese export decoration. The Diary of Colin Campbell from this his first voyage to China 1732-33, is available in English in the books for sale section of this site.
Sincerely
Jan-Erik Nilsson