Stone vase?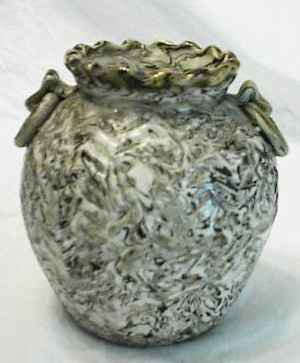 Someone on ebay suggested that I ask you about a vase that I have acquired. It appears to be some sort of stone. The height is 7 1/2" tall and it is at least 75 yrs old according to the owner. There are no marks of any kind. The bottom and inside are the same as shown in the photo. Any help would be greatly appreciated.
---
Possibly a Daoists' meditation Vase
Thank you for asking and sharing your interesting piece with me. I have never really seen any vase like this before and can't really say that it even is Chinese.
But, if it is, it should be connected to Daoist (Taoist) meditation and their perception of the world where everything is interconnected with each other.
If you have ever seen any Chinese garden stones the idea and function is the same with those.
The thinkings is that you should look at the swirls, relax, feel and understand how you are a part of a continuos "whole" - where noting really ends or begins.
The "vase" or urn shape in itself would in that case be a symbol for the "Yang" (female) part of the universe.
I hope this helps at least some :-)
Thank you for your interest.
Best regards,
Jan-Erik Nilsson