Polychrome Tea Caddy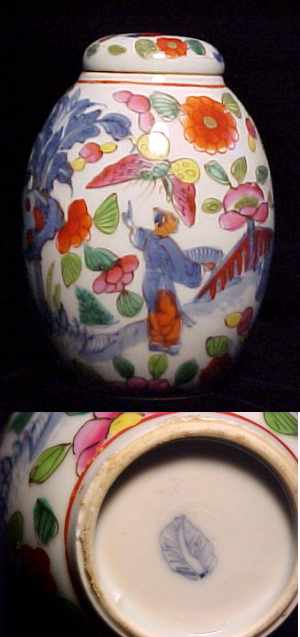 I purchased this polychrome Tea Caddy, 10.5 cm high with original lid, at eBay from Hong Kong, as Kangxi.
---
You should return this for a full refund
Regarding the tea caddy I am not sure about it's age. The piece is of a too small size to be sure about any technical details of glaze and potting, but the grit that adheres to the foot rim should not be there if it is a Kangxi piece.
The mark, which is an Artemesia leaf, is a common mark on Kangxi porcelain, but the white stem in the middle of the leaf should not be there either if the mark is of a Kangxi date.
The lid is of a strange form and does not have a Kangxi "feel". Finally and most important is that the enameled decoration could impossibly match a Kangxi date.
The porcelain bottom part *could* be the second quarter of the 18th century.
The only conclusion is that either the enamels is added later, and the porcelain piece itself might date from the mid 18th century - or it is altogether a recent piece.
Thank you for your interest.
Best regards,
Jan-Erik Nilsson
(Picture added later)