Blue and white Jar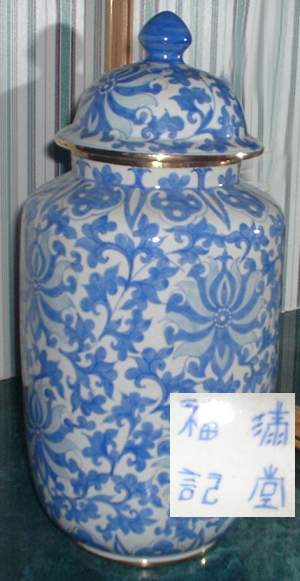 Hi, My grandma has this vase and I'm having a very difficult time finding any information about it. Could you tell me what period it looks like it's from?
Can you read what the bottom says (second picture)? Thanks so much for your help!
---
Very difficult to tell.
There are no clues actually that could be used for firmly establishing where this jar comes from. We can guess Chinese as our best choice, but if so it is probably a very recent piece, from the last quarter of the 20th century.
I cannot even see if there are any crackles in the glaze or paste of the jar, which would have been helpful, now the question of the origin of your Grandma's jar is left a very open question.
From the gilded rim fitting we usually say that the piece was intended for the Indonesian market, since this was a feature they seems to have liked there.
Thank you for your interest.
Best regards,
Jan-Erik Nilsson